The Wait Is Officially Over -The DUKE10 Banjolele 'Season 3' is coming!
We're absolutely thrilled to announce this awesome news for all of you who've been waiting for this moment: the 3rd chapter in the DUKE10 adventure is officially here! Our super-anticipated DUKE10 Tenor Banjo Ukulele is ready to rock the stage in our DUKE10 'Season 3' Pre-Sale. And let us tell you, it has been quite a journey.

Ever since we sold the last DUKE10 Banjo Ukulele in October 2020, our inbox has been flooded with emails. We're talking about hundreds of eager fans who simply can't wait to lay their hands on the legendary DUKE10. In fact, rumor has it that one renowned UK music store described it as an instrument of such awe-inspiring mystique, it's practically achieved cult status!

For all you patient souls out there, the moment you've been dreaming of has arrived - your exclusive shot at owning the iconic DUKE10 is finally here.

Anticipate the thrill of unwrapping your very own DUKE10 by early December, as we craft these masterpieces with utmost care. All going to plan you will have yours just in time to fill your holidays with melodic magic. Choose from one of our three awesome deals below, and secure a symphony of savings that'll make your heart sing! 🎶
Our three PRE-SALE deals are below - the more you pay now, the better the deal. Click each one to check it out
But Which Deal To Choose? Compare them at a glance
GOLD - When you pay 100% Deposit you will receive:
- FREE Shipping worldwide (up to a value of $USD100*)
- A very stylish Tweed (yellow & brown) hard case, for that vintage look, perfectly suited to a banjolele.
- A Duke branded T-Shirt (photo coming)
- A very cute keyring that is an exact replica of a DUKE10
- A Duke logo sticker
- And maybe even more...
SILVER - When you pay 50% Deposit you will receive:
- Subsidised Shipping worldwide. You pay $USD35 and we pay the rest (Maximum total shipping cost not to exceed $USD100*)
- A very stylish Tweed (yellow & brown) hard case, for that vintage look, perfectly suited to a banjolele
- A very cute keyring that is an exact replica of a DUKE10
- A Duke logo sticker
BRONZE - When you pay 25% Deposit you will receive:
- Subsidised Shipping worldwide. You pay $USD50 and we pay the rest (Maximum total shipping cost not to exceed $USD100*)
- A very stylish Tweed (yellow & brown) hard case, for that vintage look, perfectly suited to a banjolele
- A very cute keyring that is an exact replica of a DUKE10
- A Duke logo sticker
Here's what you can expect when you invest in a DUKE10
A tone that is strident yet rich, bright yet warm, helped by the large 10" drum & head, and the Aquila Super Nylgut Tenor Ukulele Strings.
Great playability with a nice low action, meaning the strings are close to the fingerboard, making them easier to push down to play chords.
Carefully adjusted intonation, giving you an instrument that plays in tune with itself.
A banjolele that is 'gig ready' with its rich and powerful twin passive transducer pickup system. Just plug in and you are ready to go big!
Video support for getting the bridge setup correctly after you unbox your new 'baby'.
Friendly and helpful personal customer care from owner Jamie Houston.
And don't just take our word for it, see what our happy DUKE10 owners are saying on our Reviews Page (all independently collected).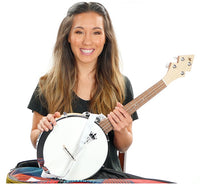 Global Ukulele Icons Raving about the DUKE10
Dive into the Videos to get their thoughts.
Please Note: Any pricing mentioned is now out of date, and the gig bag has now been replaced with a hard case.
Plus Rave Reviews from Delighted DUKE10 Owners
A Warm Welcome from Jamie Houston - Owner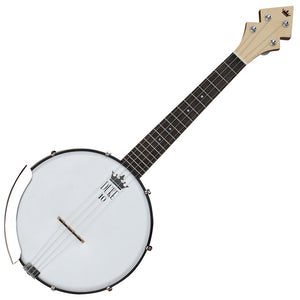 So light you will be amazed!
The first thing you will notice when you take your new banjolele out of it's awesome hard case (replaces the previously supplied gig bag) is that it is SUPER LIGHT! 
Only 2.2 lbs (1kg). That's nothing like some of the 4 lb monsters out there!
The DUKE10 - light as a feather! Well, almost!
Take A Listen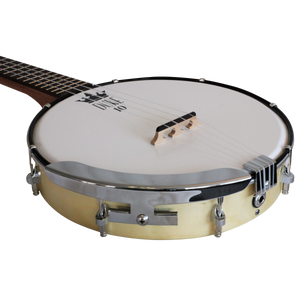 Comfy armrest, so no more sore arms!
On most banjoleles you have the metal tension hooks digging into your arm, so we decided that every DUKE10 would come complete with a well-placed and very comfortable armrest which also keeps your arm off the drum head, avoiding unnecessary muting of the sound.
So comfortable you will love playing it!
READ THE REVIEWS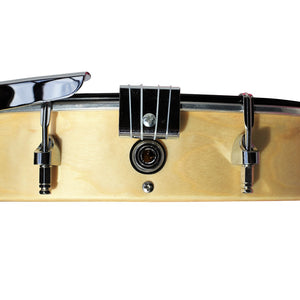 Smooth-edge tailpiece, so no more string breaks
Most other banjo ukuleles tie-off the strings under a metal tailpiece, which often has a sharp edge, meaning it is common for the strings to break.
To fix this problem, we designed a simple 'smooth-edge' tailpiece that the strings effortlessly pass over and then through the drum to tie-off inside the rim. Now your strings will never break at the tail because they tie-off behind the wooden drum.
the duke10 banjolele - improved, evolved, unique & loved!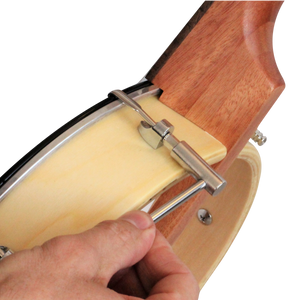 Change Your Tone with the Adjustable Drum Head
Use the (included) tension key to tighten or loosen the drum head.
Tightening it to be hard to the touch will give you a very bright sound. You will get good note distinction, but less bass response. 
Loosening it to be softer to the touch results in a warmer, less bright sound.
This puts you in charge of how you want your DUKE10 to sound.
Make Tuning A Breeze
They may look like traditional friction pegs, but they are actually planetary geared tuners (with a 4:1 ratio).
Why should you care? Because they make tuning a whole lot easier. They are very smooth to turn and hold the strings in tune very well.
Happy DUKE10 owners love these tuners and many comments are made about how awesome they look too!
Watch DUKE10 Being Played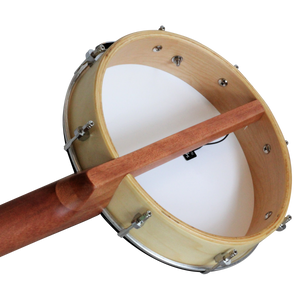 Nice Low Strings, Forever!
Over time, the distance of the strings from the fingerboard of a banjo ukulele can increase, often due to movement of the neck. This makes it harder to press your fingers down when playing chords.
To remove this issue once and for all the DUKE10 has a one-piece neck - a rigid spine of sorts. So when you get your new banjo uke, the strings will be at the right height with everything in alignment. The best part is that it stays that way forever!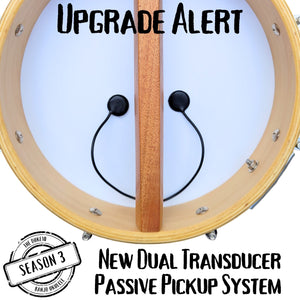 Dual Passive Transducer Pickup in every DUKE10!
Yes we know, banjo ukuleles are already loud so why would we put a pickup in every DUKE10?
Well let's just say that it comes in very useful on more occasions than you would think. Going big or staying small, plugging in sounds great!
'Season 3' of the DUKE10 will have a dual PASSIVE transducer pickup system, giving a more natural sound through an amp, and giving an even better sound than the previous pickup.
Listen to DUKE10 Plugged In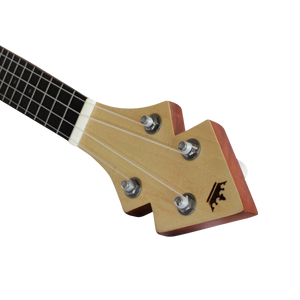 Unique and Quirky, Just To Be Different
Sometimes you find an instrument that just speaks to you, and we have designed the DUKE10 to get noticed.
From its minimalist design to its unique and quirky headstock, this banjolele attracts a lot of attention.
The design is sure to make you stand out in a crowd, and just maybe the volume! 🤣
So many DUKE10 owners comment that they love everything about their new banjolele 'baby'.
GOTTA HAVE ONE!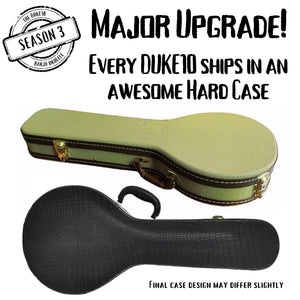 We Are Replacing the Gig Bag with a Hard Case!
Here are a couple of photos of our prototypes, but there are more photos and possible design changes coming.
We are adding this major upgrade to give you solid protection so your precious DUKE10 banjolele stays safe.
CHOOSE YOUR CASE DURING OUR PRE-SALE (no choice available after pre-sale - all banjoleles will ship with the same case).
This is a BIG DEAL!
See More Photos of the Cases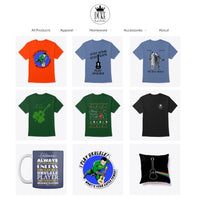 While you wait to get a DUKE10...
Check out our awesome ukulele-themed merchandise! We have tees, hoodies, mugs, cushions, and even more...
Show It To Me!
Who Is Duke Owner, Jamie Houston?
It all started back in 2006, when I used to live in Byron Bay, Australia! Sitting around a BBQ at a mate's place, when a guy pulled out a little coloured ukulele and started playing.
Well, that got me asking questions about how to play and how hard it was, and so on. Sound familiar? I know many of us got our start on ukulele in a similar way.
That humble beginning became a driving passion for me to share the love of making music on the ukulele (or in this case, the Banjo Ukulele!). I fell in love with the DUKE10 Banjo Uke in 2017, when I received 'Version 1' to check out by its creator Ed Ackman. A coincidence that he is also a 'kiwi' and lives right here in New Zealand!
I loved it so much that when Ed told me he wanted to sell the business, I jumped at the chance to make Duke Banjo Ukuleles my own, and purchased it in August 2018.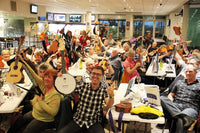 Joining in the Fun!
Here's Jamie hanging out with the Hutt Valley Ukulele Orchestra, in Lower Hutt, New Zealand, showing off his DUKE10 Tenor Banjo Ukulele.
Ukulele Stories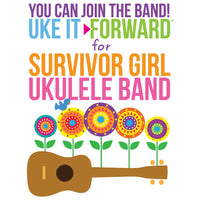 We are Proud to Support Survivor Girl Ukulele Band Project in India
And we ask you to UKE IT FORWARD® too. 
This is a global invitation to bring healing and hope to survivors of human trafficking in India through your ukulele.
UKE IT FORWARD® for survivor girl ukulele band is the first annual world-wide campaign inviting all ukulele lovers, ukulele jams, ukulele orchestras, ukulele clubs, and ukulele superstars to hold an event to support survivor girl ukulele band project.
Click to find out more and to Join the Band!
Learn More
Can You Help Us To Make A Real Difference In The World?
We are on a mission to gather as many inspiring 'Ukulele Stories' as we can. Why? Because we know that making music on a ukulele, or in our case the banjolele, and spreading that love far and wide is one of the most powerful ways to make a real difference in our communities.
We like to think of Duke Banjo Ukuleles as a company that spreads happiness, and believe that through our DUKE10 Banjolele we have a real stake in helping the world to become a better place.
Whatever level of player you are, we want to hear how the ukulele has changed your life! Send us your story here.
More Happy DUKE10 Owners Sharing Their Happiness
I received the uke last night and couldn't be more happy! It's the fourth uke that I've bought and definitely my favorite, already. The uke arrived set up (nice low action) with the bridge already in place. It was nearly in tune right out of the box.These guys also did a great job in packing, it was a nice box within a box, with lots of extra padding. They really ensured that it arrived safely. You should feel really confident selling your instruments in the future.
Thanks again, and cheers from New York!

Chris S
Finally have been able to play my Duke 10 after liberating it from the wrapping paper on Christmas eve. WOW! The sound is awesome...It's got a nice twang without being overly harsh. (although my wife did just close the door to my office, but i think that's volume!) Nice crisp clear notes when picking ...... Full bodied strums....... "Jockey Full of Bourbon" sounds great with a mild fandango strum. All in all you guys DONE GOOD!
Thank you again and Happy New Year you glorious ba#t#rd!

Gregg S
I was convinced by a friend of mine to purchase the Duke10 Banjolele. I already had a Concert Ukulele and I thought it would be nice to have another instrument to give a different sound. My word, it really gives a magic sound which suits so many of the old favorite tunes, a perfect alternative to just having a Ukulele. Do yourself a favor and get a Duke10 - it is a fabulous instrument for the price!

Mike G, Perth, WA, Australia
I like the Duke 10 very much....I had an original Duke, and a firefly, and a Deering concert banjo. I prefer the duke 10 over all of them...a good looking and sounding instrument.
As an alternative tuning, this makes a great Baritone banjolele, if you use the Fremont Black line Bari tuning for Tenor size with High D.

Mike T
Love this banjo ukulele. I bought one a while back. It's fun, light and easy to hold. And it's loud!! It also comes with a pickup! Did I mention it's loud?! Plugged it in once while playing with a group of older rockers, and it was even louder!! It even comes with a cool strap and gig bag. Gotta love it!

Audrey P, Everett, WA, USA
"What a great idea - usually you've got the bits from the drum sticking into your arm on a banjolele, but it's got an armrest - look at that! And light as a feather. For the price, seriously, you can't get much better than this, delivered to your door with no shipping costs. Duke 10 baby, go and order one!" 

Stukulele - ukemullum.com